The Joy of Giving: Barbara (Ondrasik) '57 and Dr. David E. Groce Will Transform Lives in Perpetuity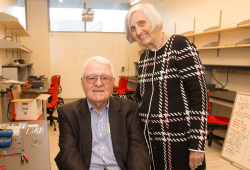 Barbara and David Groce truly live the adage "it is better to give than to receive." They are among Whittier College's longest-standing Faithful Friends, making a gift every year since 1970, and it is evident from their joy and enthusiasm that they are receiving so much in return for their generous philanthropy. They beam sharing stories of meeting students who have benefited from their endowed scholarship, and of the pride and appreciation of smiling young undergrads who were able to undertake complex projects and complete career-enhancing experiences through the support of their endowed fellowship.
A retired educator, Barbara actually made her first gift to the College in 1964 ($2 in Australian pounds-a result of David completing his post-doctoral degree in Australia), intending to "pay it forward" for the excellent experience she had at the College.
From the beginning, Barbara and David have always found a way to help their community and the organizations they care about most, supporting their alma maters and local San Diego non-profit organizations. She is proud that she and David can help others so that future generations gain experiences that help them succeed. "If there's a need, that's what you do-you help out," said Barbara, "we just always preferred to see our resources go toward students and organizations which are making a difference rather than cars and other fancy things."
Gifts in Action
After many years of faithful giving, David decided in 1986 to do something special for Barbara, and he established the aforementioned Barbara Ondrasik Groce '57 Endowed Scholarship for Gold Award Girl Scouts in her honor. Realizing the impact that such a fund could have at Whittier College led them to later establish the Barbara Ondrasik '57 and Dr. David E. Groce Summer Undergraduate Research Fellowship (SURF) . This fellowship supports multiple students every year and is designed for sophomores or juniors of any major to engage in a substantial undergraduate academic research or creative project with a faculty mentor during the summer (to encourage full immersion in the project). Barbara continues to be enthusiastic about the students they have helped through their funds and says that after meeting the recipients it "makes her day, even her week!"
Barbara and David are truly changing lives for the better through their philanthropy-showing and living their "love of humankind" (which is the actual meaning of philanthropy). And they intend to continue making a difference for future generations of Poets by including Whittier College in their estate plans.
The Long View
Together, Barbara and David have taken the next step to ensure future generations of Poets will continue to experience the quality education Whittier offers by including the College in their estate plans. By doing so they will indeed create opportunities for students. In the process, they hope it will inspire others to "pay it forward" just as they have.
Including the college as a beneficiary through a will or trust, or even a life insurance or retirement plan, is so simple. Just a stroke of the "Poet's pen" is all that is needed to become a member of the Whittier College Philadelphian Society and transform lives for generations to come!
For more information, please contact us.