Alumni Couple Supports the Newest Generation of Aspiring Writers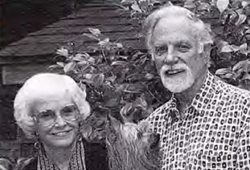 Zilpha Keatley Snyder '48 and Larry Snyder's '50 story began in a familiar space on the Whittier College campus. The late Zilpha once recalled, "We met first in the Campus Inn where we both waited on tables, and when I first saw him he was playing the piano—six-foot-five with curly black hair and blue eyes—Larry was a music major who was also an athlete, a charismatic extrovert who was, and still is, a natural scholar, and a small-town boy who was born with a Ulysses-like yearning for new horizons. I liked him a lot. I still do."
Upon graduating from Whittier in 1950, Larry and Zilpha married and set out on what would be an extraordinary life of adventure together.
A true lover of learning, Larry went on to receive his master's degree from the Eastman School of Music in Rochester, New York, and worked on his doctorate degree at UC Berkeley after serving in the Korean War as a briefing officer at Elmendorf Air Force Base in Anchorage, Alaska. Larry taught at the College of Marin, served as the first Dean of the San Francisco Conservatory of Music, and finally was a professor and faculty senate member of the Sonoma State University Music Department. During summer breaks, he led study groups to Russia on the UC Berkeley cultural exchange programs for over 20 years. He retired from academia in 1995.
While ultimately planning to be a writer, after graduation Zil decided to teach school temporarily. She found teaching to be an extremely rewarding experience and while accompanying Larry on his careers in the military and in music, she ultimately taught for nine years at schools in New York, Washington state, Alaska, and California.
In the early sixties, when all of their children were finally in school, Zil began to think about writing again. "Writing for children hadn't occurred to me when I was younger, but nine years of teaching in the upper elementary grades had given me a deep appreciation of the gifts and graces that are specific to individuals with ten or eleven years of experience as human begins. Remembering a dream I'd had when I was twelve years old, about some strange and wonderful horses, I sat down and began to write."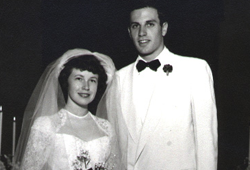 Between 1964 and 2011, Zil completed 46 books, three of which were named Newbery Honors Books, the most prestigious award for children's literature in the United States.
Though loyal annual donors to their beloved alma mater, many years ago Zil and Larry began to think about a bigger gift to Whittier College—one that would make a significant difference, but wouldn't interfere with their financial needs during their lifetimes. They decided to name Whittier College as the beneficiary on three of their individual retirement accounts (IRAs)—an easy update to make online or through your plan administrator. Upon Larry's passing in 2019 (Zil predeceased him in 2014), the funds from their IRA's passed tax-free to Whittier College, avoiding probate and minimizing the income taxes imposed on their children and estate.
Zilpha and Larry Snyder's legacy gift was designated to grow the corpus of The Albert Upton Chair in English Language and Literature. Adding to an existing endowed fund on campus is an efficient way to increase the impact of an endowment, and will meaningfully extend the Snyder's values and passions for future generations.
The Upton Chair honors long-time Professor of English Albert Upton, who directed the College's liberal arts education curriculum and earned renown for his first-year English course, Design for Thinking. The faculty member holding the Upton Chair is committed to teaching and writing while playing an important role in the College's writing program.
Thanks to the Snyder's extraordinary gift, generations of outstanding Poet writers will find support, mentorship, and stability within the English department as they hone their own writing talents—a legacy that would bring the Snyder's great satisfaction.