Rosa Lee Black Votteri '62 and Millard Votteri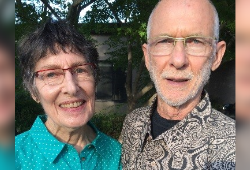 For Rosa Lee Black Votteri '62, attending Whittier College was a life-changing experience that led her to a public health career with stops in San Francisco, New York, Senegal, and Central America.
She credits Whittier with giving her an understanding of how communities and cultures can collaborate to achieve social change. "Whittier also taught me how to recognize emerging social problems and develop innovative health education programs."
A native of Phoenix, Arizona, in 1958 Votteri boarded a Greyhound bus as the first in her family to attend college. "My parents had no idea how college works, and they were relieved when I was awarded a terrific scholarship," she said. Armed with a degree in sociology, Votteri then earned an M.S. in public health and social welfare from the University of California, Berkeley, and also served as a Peace Corps volunteer.
Though she lives in Sacramento, Whittier is never far from her mind. Votteri wanted today's Poets to have the same transformative education she had received. Together with her husband Mill, she has decided to establish an endowed scholarship.
"I looked at the world around me and did not want to wait for someone else to take action," Votteri says. "Mill and I decided to step up our involvement and do something with the resources we have. This is our way of assisting social change."
The couple has also made provisions to leave a gift for the College in their will, and Whittier is therefore proud to recognize them as members of the Philadelphian Society. Votteri encourages everyone to get involved in some way. "Even small contributions can make a big difference."