Alumnus Makes Sound Investment in Music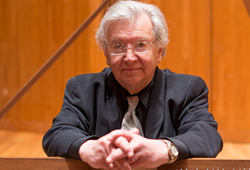 Raymond Erickson '63 arrived in Whittier from Chicago when his father accepted a position with North American Aviation. From an early age, the family knew that Ray was a promising pianist and quickly sought to find him a good teacher in the area. He recalls, "My dad had to twist Margaretha Lohmann's arm in order to get her to hear me, but she eventually did and I became her student at age ten."
Ray attended St. Mary's in Whittier for grades 5-8 (along with his future college classmate and best friend, Guy Talbott '63), and this is when his connection to Whittier College developed. "I remember having lessons with "Miss Lohmann" (as we students always called her) in the old music building on Whittier's campus across from Earlham Hall," he recalls. "Afterward I would go to The Spot (then located on Wardman Street across Painter Avenue) to get a chocolate malt for 25 cents!" As a junior in high school, Ray won a competition with the Archdiocese of Los Angeles, where he had the opportunity to play a concerto with an orchestra. This experience prompted him to commit to a career in music. Therefore, when it came time to select a College, Ray decided, although he had a 4-year college scholarship valid anywhere in the country, that he wanted to continue his studies with Margaretha. He applied only to Whittier College and ultimately decided to double major in music and math.
"Margaretha was an inspiring teacher and incredible role model-and not only for me. I also had the superbly organized and rigorous Dr. William Dale for music theory (how good he was I would only realize in graduate school). No doubt a bit too cocky because of the way I had been cultivated by the College, I got my worst GPA ever that first semester of my freshman year, which really shook me up." Realizing that he would not be coddled in college, Ray settled in, improved his cumulative GPA every semester, and graduated with high honors.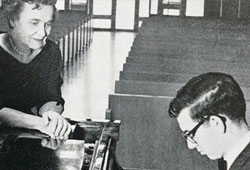 Other memories of his time at Whittier include the bi-weekly "poet musicales" at the home of Margaretha Lohmann (student performances, good things to eat, and serious conversation among faculty and students), weekly 300-word essays for Dr. Albert Upton's Basic Communication course, memorable Western Civ lectures by Harry Nerhood ("It is not what is that counts; it is what man thinks is!"), and traveling abroad in the Copenhagen program with Dr. Dale. Ray was also a member of the William Penn society and, naturally, directed the group in the annual Spring Sing in 1962 and 1963. They won the men's division the first year and the sweepstakes in '63. He also participated in the annual Bach Festival, founded by Margaretha Lohmann, and played solo piano recitals in his freshman, junior and senior years, the second being the first performance in the new Memorial Chapel.
Nonetheless, the highlight of his collegiate musical career was playing the Schumann Piano Concerto with the Whittier Symphony in 1961. "I remember that I had an Intermediate Calculus test that same week and I simply didn't have time to prepare for it and the concert. So Schumann won in the end, and it was then that I changed my math major to a minor."
After graduating from Whittier, Ray did doctoral work in musicology at Yale University (Ph.D., 1970) and also began study of the harpsichord. In 1971, he began his teaching and performing career on the east coast at Queens College, CUNY, where he later was the founding Director of the Aaron Copland School of Music, and then the College's Dean of Arts and Humanities. He didn't make it back to Whittier until Margaretha retired (around 1969), and he returned to MC her farewell party. Later, when Margaretha moved into an assisted-living location, she called Ray and offered him her piano. The instrument, on which he played his first lessons with her in her home, sits in his New York living room to this day, and will likely be donated to the College.
As the decades passed, Ray recalls, "I dreamed of doing something significant for Whittier College." Reflecting back, he says, "Margaretha Lohmann has always served as my model in life and I came to appreciate deeply the moral, Quaker-influenced (yet not sectarian), quality of a Whittier College education-something that really hit me when I arrived at hedonistic Yale! Moreover, at Whittier I received excellent academic preparation for graduate work at Yale, and, thanks to the extraordinary opportunities available to me as an undergraduate performer, I have been able to have a career divided between academic teaching/scholarship and musical performance."
More specifically, Ray has long hoped to establish an endowed, professorial chair in his name in Whittier's Music Department. Ray knows that he isn't now in a position to give an outright cash gift sufficient to endow a chair-his current financial objectives include helping his wife Carole's grandchildren through College, including one in Whittier's Class of '22! Nonetheless, Ray worked with the College's Office of Advancement to create a gift plan for naming the chair that was custom-tailored for his unique philanthropic and financial goals.
His gift commitment is a wonderful blend of charitable gift annuities that will provide him and Carole with income for life paired with a capstone gift from his estate that will be given after his lifetime. Altogether it will establish the Raymond Erickson '63 Endowed Chair in Music AND a new endowed scholarship fund called the Raymond Erickson '63 Endowed Scholarship in Music. He is willing to share his own story now because he hopes that it might inspire others to think along the same lines.
Ray and his Class of 1963 classmates are now looking forward to their 60th Whittier College anniversary. It is sure to be a special time for Ray, knowing that he's accomplished his dream of becoming a philanthropist. His gift will benefit generations of students and faculty and will leave an indelible mark on the musical life of the College. And, perhaps most importantly, he will return to the campus and remember Margaretha Lohmann, knowing that his gift would have made her so proud as it honors both their notable legacies!