IRA BEQUEST: SIMPLE TO DO. BIG IMPACT.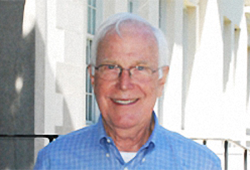 For alumnus Frank Olson '64, his time at Whittier was one of self-discovery. "It was when I figured out who I was. The faculty nurtured me-they really challenged me."
Frank majored in history and took a minor in political science. He has fond memories of classes with Profs. John Schutz, George Grasty, and Dick Harvey. Outside of the classroom, he recalls spending time with friends, the great guest lecturers who visited campus, and valuable leadership lessons gained through his job as beverage supervisor at the Campus Inn, his involvement in the Freshman Orientation Program, and his service on ASWC his Junior year.
"I got comfortable in my own skin, and I learned how to make decisions," Frank recalls. Both were skills that served him well after graduation. Following study at Queens University in Ireland on a Rotary Foundation Fellowship, Frank enrolled in law school for a time, but left to become an Officer in the Coast Guard. He spent two years in Washington DC and two years on an icebreaker in Alaska before starting his career as an educator.
Frank taught for 30 years in Kentucky at both the elementary and high school levels. During that time he took on administrative roles, including Assistant Dean for the Kentucky Governor's Scholars Program.
Like most educators, Frank didn't enter the profession to make a fortune. Yet when reflecting upon his time at Whittier he found himself wanting to give back in a meaningful way. "Whittier gave me a lot. I wanted to return the favor."
And to do so, Frank is leaving a bequest to the College through his IRA. "It was easy. I didn't have to involve any lawyers. And it will keep my IRA out of probate." He did the same with some of his investment accounts.
A bequest through an IRA is as simple as updating ones beneficiaries. For Frank Olson, it took one phone call and minimal paperwork. Many IRA administrators even allow account holders to make these updates online.
For now, Frank's IRA takes care of him. Later it will provide for family and support the charities that were important to him, including Whittier College. It's the easiest bequest to set up, but has a big impact. Whittier College is delighted to recognize Frank Olson '64 among the news participants in the Poet Legacies Campaign. Welcome to the Philadelphian Society, Frank!