Reunion Inspires Scholarship Support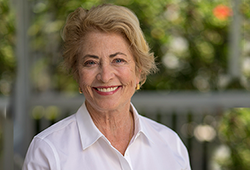 When Sandy (Hayden) Davidson '67 stepped onto the Whittier College campus something clicked, "I felt immediately comfortable," she says. Opportunities for club participation, social activities, friendships across campus, and intellectual discourse in challenging classes all followed, and each positive experience confirmed her earlier feeling that Whittier was a place where she could thrive.
In class, Sandy recalls that professors were always accommodating, but also had high standards for students. In particular, she remembers Dr. Robinson, chairman of the political science department, fondly. His lectures stimulated challenging discussions, and as a female in the male-dominated political science major, she learned early that she had a perspective and opinion that was just as valuable as her male classmates', and she gained a framework for approaching leadership.
When Sandy attended a career fair her senior year she learned quickly that the skills she had acquired at Whittier had prepared her for work in the real-world, and she graduated with a job lined up at AT&T/Pacific Bell. Within a year, she was managing a team of over 20 employees, where she would learn additional lessons about teamwork, decision-making, and motivating others.
Over the next 50 years, Sandy would develop these skills even further as she got involved in community building and fundraising, specifically leading initiatives at the schools where her three sons attended, but also in the local community, where she served as President of the Naples Islands Garden Club and has been active with the local chapter of the Junior League.
Although she had remained in touch with friends from college through the years, and even stayed in tune with the goings on at Whittier, what really re-connected her was long-time friend and classmate, Ann (Hansen) Burge '67, recruiting her to be a part of their 50th reunion planning committee. Sandy jumped right in! The duo, along with several other active classmates, began planning a year in advance for their special celebration.
Important to their early efforts was coming up with a class gift project they could all get behind. As a committee, they decided to establish the Class of 1967 Endowed Scholarship, a fund that would forever support Whittier College students in their name. Sandy was an early and strong supporter of this idea, and says, "I received financial aid at Whittier, which made my education possible. Looking back, my college experience formed the basis for the rest of my life. I have a great deal of gratitude for Whittier."
Through phone calls, emails, and hand-written letters, Sandy and the reunion committee built great excitement for homecoming, and she also put her fundraising skills to use, calling on classmates to support the scholarship project and help establish a legacy they could all be proud of.
Whittier Weekend came and went, and it changed something for Sandy. She was so impressed with the affection that each of her classmates had for each other, and for their alma mater. The weekend cultivated new friendships and rekindled long lost connections. Each event was a reminder of the great memories everyone shared together, and alumni also got to see that Whittier College continues to provide meaningful opportunities for today's Poets. She says, "Our reunion was a very powerful experience."
Although she had already made a generous gift to the Class of 1967 Endowed Scholarship, Sandy discovered that after a year of planning and a weekend of moving experiences, she wanted to do something more. About a week after their 50th reunion festivities, Sandy and her husband Bill made the decision to include Whittier College in their estate plans to further fund the Class of 1967 Endowed Scholarship in the future. It was an easy update to make, and one that will have a big impact.
To further support her decision to make this meaningful commitment, Sandy shares that she was moved to learn that, "many classmates I spoke to had also received scholarship support when they attended Whittier. Not only that, but they turned their Whittier experiences into rich and fulfilling lives." Through her bequest, Sandy knows that she will help provide many future generations of Poets the same sort of impactful educational opportunities that she and the class of 1967 received so many years ago.